Feline-Friendly Holiday Tips
by Uniquely Cats Veterinary Center Staff
Is Your House Cat Friendly this Holiday Season?
It's that time of year again. As the boxes of decorations get dusted off and pulled down from the attic, your furry feline is patiently waiting for those sparkly shiny ornaments to hit the floor. Here are a few Feline-Friendly Holiday Tips to help you and your fur friend survive.
Some of us kitty parents may not realize that we must be quite careful with our decorations or the seasonal plants we put on display. Some of these things can pose a hazard to our furry family members!
Christmas Trees
Secure your Christmas tree in a base or have it tethered to the wall; this will avoid accidents if your kitty takes to climb the tree.
Cover the water your tree is sitting in with a bit of mesh netting. This water has sap & preservatives which have settled in it. Both of these things can be toxic if consumed by your kitty.
Keep the lights on your tree from dangling down. Try to keep them close to the branches; this avoids the temptation of your kitty grabbing or chewing dangerously on a live electrical cord.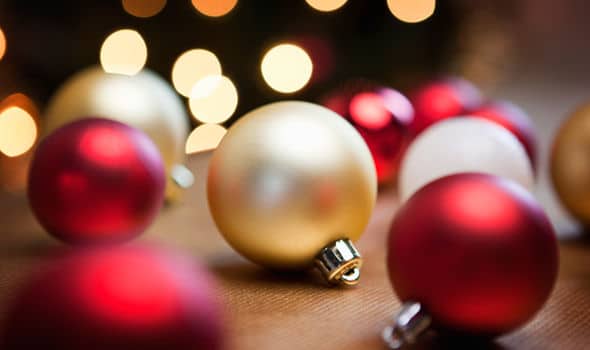 Decorations
All decorations on a string are potential chewing toys for kitties. Cats tend to swallow strings whole, without chewing them into pieces. This can cause the string to wrap around your kitty's intestines and create serious problems. Tinsel is especially hazardous. Our cats often find great pleasure in grabbing the tinsel off the tree and shredding it, potentially swallowing it.
Any decorations in small pieces are a risk of being consumed by your cat. Try your best to make sure these are out of reach.
Seasonal Plants
There are a number of Christmas plants that are actually toxic if consumed by cats. Keep an eye on your kitty! The most popular toxic holiday plants:

Mistletoe
Ivy
Holy
Christmas Roses
Poinsettias
If you notice your kitty is displaying unusual behavior such as vomiting, diarrhea, lethargy, or loss of energy, please call us immediately or visit your nearest 24/hour emergency clinic.
Want to know more? Check out the other resources on our website, or schedule an appointment for your cat at Uniquely Cats Veterinary Center – WE UNDERSTAND CATS.