At Uniquely Cats Veterinary Center, we believe that a strong, unified, educated and passionate team is key to a successful practice! Every member of our team is equally important, equally responsible for, and passionately committed to making sure that we do the best job possible at every stage of feline medical care, from the moment you make an appointment to the time you return home with your kitty.
Our team members are all cat lovers, and want nothing more than to help your cat be as healthy as possible, and to make sure that your needs are met!
We understand that every cat, cat parent, and cat home dynamic is unique. There are no universal solutions to any medical problem. Healthcare choices differ in risk, benefits, cost, and comfort level. Our doctors and staff will work with you as a team, providing the information you need to be comfortable and confident that you are making the best healthcare decisions for your cat, and the most sensible choices for you.
Veterinarians
Fern Slack, DVM

Medical Director
Dr. Fern was born in Georgia and raised all over the world in an Army family. She drove her mother crazy by adopting cats everywhere they went. Dr. Fern graduated from the University of Georgia College of Veterinary Medicine in 1982. She went into Emergency Medicine and became the first Secretary of what is now the Veterinary Emergency and Critical Care Society. In 1993, she realized a lifelong dream when she entered feline-exclusive medicine, operating a successful feline practice in the Washington, DC area for many years. Dr. Fern has served two terms on the Board of the American Association of Feline Practitioners, and remains an active member. Her primary interests are Feline Wellness, Feline Nutrition, and Feline Internal Medicine.
Dr. Fern moved to Boulder, CO in 2015 to open a Feline-Exclusive veterinary practice and to become part of a vibrant, progressive, and active community. She rejoices in a most wonderful family: husband Marc, two non-furry children, Glenn and Cory, and two feline children, Malcolm and Kaylee.. When not practicing medicine (or being a wife and mom), she loves to read (especially science fiction, mysteries and the Crooked Media), solve crosswords, collect rocks (and make jewelry out of them), listen to prog rock, bicycle, hike and write stuff about cats.
Dr. Fern is a member of:
The American Association of Feline Practitioners
The American Veterinary Medical Association
The Colorado Veterinary Medical Association
The Veterinary Information Network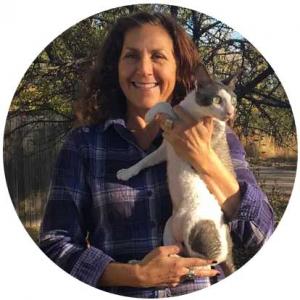 Jessica Fine, DVM, MS

Feline Veterinarian
Feline medicine has always been Dr. Jessica Fine's passion. As a young adult, she read the book "All my Patients are Under the Bed – Memoirs of a Cat Doctor" by Dr. Louis J. Camuti, and a dream was born. Being an integral part of the Uniquely Cats team is her dream come true. She has high hopes of continuing to push the boundaries of conventional veterinary medicine and nutrition.
In Dr. Fine's early career as a vet technician, she had the good fortune to work with Dr. Sally Haddock, a pioneer among women veterinarians and author of "The Making of A Woman Vet." Working in Dr. Haddock's clinic, the St. Marks Veterinary Hospital in Manhattan, gave the not-yet-Doctor Fine five years of rich experience with diverse pets—and their families—and crystallized her desire to become a full-fledged veterinarian.
In 1996, Dr. Fine moved to Fort Collins, Colorado, to pursue a degree in Veterinary Medicine at Colorado State University's College of Veterinary Medicine and Biomedical Sciences. She received her Master's Degree in Anatomy and Neuroscience in 1999, then went on to earn a Doctorate in Veterinary Medicine in 2003.
Dr. Fine has been practicing small animal medicine, surgery, and dentistry since 2003, collecting the best practices and honing her expertise in feline medicine along the way.
Dr. Fine is owned by her three cats: a Cornish Rex named Kashi, a Sphynx named Squidward (thank you, SpongeBob!), and her newest addition, a Sphynx named Fleur whose middle name is 'gravity'!
When she is not working, Dr. Fine enjoys spending time with friends, entertaining her cats, running, hiking, doing yoga, camping, reading, watching movies, biohacking and longevity research.
Weronika Gajowniczek, DVM

Feline Veterinarian
Dr. Weronika was born in Poland, but her family came to the United States when she was two years old. She grew up in a Chicago suburb, where there was always a cat or two in the house. Dr. Weronika earned her BA in Biochemistry at Lawrence University in Appleton, WI and later graduated from the University of Illinois College of Veterinary Medicine in 2019. Before moving to Boulder, Dr. Weronika spent a year working in Mt Prospect, IL. There she developed a love for dentistry.
Dr. Weronika has held a special place in her heart for cats throughout her whole life. At vet school, she was the president of the Feline Club. During her last year of vet school, she happened upon Uniquely Cats and set up a short internship. She enjoyed her experience at the clinic so much, that she decided to eventually move to Boulder and join the veterinary team!
Dr. Weronika loves the typical Colorado activities of hiking, biking, and trying craft beers. She has also been working on expanding her cooking and crafting repertoires while listening to a variety of podcasts. She lives with two cats, Bennie and Ziggy Stardust.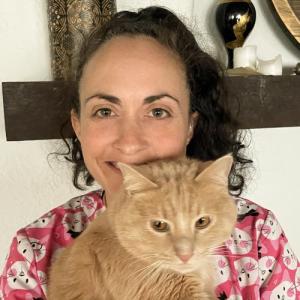 Aimee Vasse, DVM

Feline Veterinarian
Dr. Aimee is an unlikely feline veterinarian, growing up in a family that shunned cats in favor of
dogs. She is also highly allergic to cats, but thanks to Zyrtec, she doesn't develop sneezing fits and watery eyes whenever a cat is in her midst. In fact, Dr. Aimee was not a cat enthusiast until
her internship, when she discovered she had a unique talent and affinity for working with the
more aggressive members of the species. All her intern mates found this and happily
turfed her the feisty felines.

With a very multifaceted set of interests, upon graduation from Williams College, Dr. Aimee first
pursued professional cycling, scientific journalism, and biochemistry research, before settling in
to become a veterinarian. She graduated from Tufts Cummings School of Veterinary Medicine in 2013 and then completed a post-graduate surgical and medical internship at the Veterinary
Specialty Center of Tucson. Dr. Aimee has worked all over the US as a vet at small animal
general practice clinics, a cat-specific clinic, and a veterinary hospice/palliative care service.
During this time, she completed acupuncture training at the Chi Institute and later, various
courses in infectious diseases and epidemiology at Johns Hopkins School of Public Health.
Dr. Aimee is delighted to finally have found Boulder, the place that truly feels like home, and
Uniquely Cats, which is a perfect fit for her obsession with cats and her belief that veterinary
medicine must not relegate feline patients to "small dogs," as many clinics tend to do. Within the cat realm, Dr. Aimee's specific interests include holistic medicine (particularly the combination of Eastern and Western medicine), antibiotic resistance, feline nutrition, and the uncanny ability of nursing home cats to predict death and provide comfort for humans imminently in its grasp.

In her spare time, Dr. Aimee enjoys spending time with her husband and young cat-loving little
girl. She also continues to race bikes, focusing on the genre of long-distance gravel racing. Her
home is dominated by 5 rescue cats: Thelma (velcro cat), Louise (brilliant and aloof), Emmy Lou
(terrified of her shadow, but finally accepting affection), Mr. Butters (always so starving, he must
open drawers - and even the refrigerator - to satisfy his appetite!), and Orange Julius (Mr.
Butters' best friend and professional sidekick).
Staff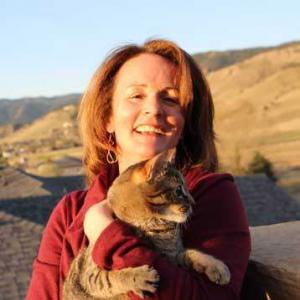 Barbara Slack-Bowden

Hospital Administrator
Barbara was born in Syracuse, New York, and spent most of her life thereafter in Virginia, except for five heavenly years in Fraser, CO (an experience that had more than a little to do with our family's decision to move to Boulder). She graduated in 1986 from VA Tech with a degree in Geophysics, and even has the piece of paper to prove it.
Barbara is mother to a wonderful daughter who is currently attending Arapahoe Community College studying Health Information Technology; and to two feline children, Jade and Jasper, who have generously agreed to serve as her alarm clock, although she really didn't want the clock set at 4 am, to which they answered, "and WHO makes the decisions around here?" and so the alarm is still set to 4 am.
A Classified Systems Security expert, Barbara has worked for ██████████ ████████, designing and implementing programs ████████████████████ which were ████████. As leader of a Security Task Force for ████████████, she personally ensured that ████████████████ in the ████████ after Sept. 11, 2001. Her ████████████ has won numerous awards, not least the prestigious ████████ ████████████████████ ████████, as well as the elite ████████████████████.
When not running a veterinary hospital or saving the world from terrorists, Barbara can be found hiking, working out, making gorgeous jewelry, indulging in binge TV, and sharing deep and profound thoughts with her cats (especially regarding appropriate start times for morning activity.)
Nicole

Patient Care Director
Nicole was born in Orange County, California, and raised in central Indiana where she discovered her love for animals. Due in part to her mother's kindhearted spirit, Nicole never turned away a stray animal and spent much of her youth caring for countless cats and dogs that found their way to her doorstep.
After graduating from Butler University with a degree in Arts Administration, Nicole moved back to California to see what her home state had to offer. With a non-profit background and a desire to help animals, she soon realized her dream of one day starting her own animal rescue. She moved to Boulder in Summer 2020 to finally put down roots and begin the journey of making her dream a reality. She was fortunate enough to find a place at UCVC and is excited to learn and grow with a team of altruistic individuals.
Outside of work, Nicole enjoys reading, baking, knitting, taking photos of the great outdoors, and snuggling with her cat, Bonnie, and two dogs, Rachel and Nugget.
Shae

Client Services Manager
Originally from the Hudson Valley, Shae spent 6 years in the Adirondacks for school and work, occasionally hiking and exploring the mountains. She graduated from SUNY Plattsburgh with a degree in Environmental Studies and double minored in Environmental Science and Biology. Shae and her family have always had a passion for animals, rescuing strays of all kinds since she was a child. Shae recently worked as a park ranger in North Dakota where she rescued 3 feral kittens. She decided to continue her journey west and has settled down in Colorado.
Shae is accompanied by her creamsicle cat Leonardo DiCattio and her array of potted plants. In her spare time, she enjoys reading, exploring, and watching moves/shows with her best friend on the east coast.
Jill

Client Care Specialist
Jill grew up in upstate New York. She traveled west to study at CU Boulder then continued west to San Francisco where she worked in the special events industry. San Francisco is a special place, but the lure of the mountains was too strong, and she and her family moved to Boulder in 2004. Jill and her family love spending time in the mountains camping, hiking, adventuring and bagging the occasional 14er.
After an extended stint as a stay-at-home mom of three, Jill is excited to be working in a fun and caring environment that promotes the health and well-being of all cats. Jill has always loved cats and has never not had at least one cat in the house. She currently has two adorable rescue cats, Tikka and Peanut.
Ellie

Records Specialist and Boarding Supervisor
Ellie has always felt a special connection with animals, especially cats, starting from a very young age. Cats have always been a part of her family in every place that she has lived. She was born in Westfield, New Jersey but was raised in two very different places—in Johnson City, Tennessee and in Tampere, Finland. Ellie and her brother went to primary school in Finland and continued secondary and post-secondary school in Tennessee. She studied Clinical Nutrition at East Tennessee State University and explored new hobbies in basket weaving, rug hooking and needle felting, which she still does from time to time.
In 2018, Ellie married her husband, Jacob, and moved to Boulder, Colorado with their cat, Finn. Jacob is a banjo maker and enjoys cycling, hiking, reading, and being creative. When she's not at UCVC, she volunteers at a wildlife rehabilitation center helping sick, orphaned, and injured wildlife, works part-time as a caregiver, and enjoys going on scenic walks, taking photos, renovating her living space, and relaxing at home with Finn. Ellie is proud to be a cat-loving Finnish American and feels extremely fortunate and excited to work with such a fun and compassionate team at Uniquely Cats Veterinary Center.
Kirsten H.

Veterinary Technician
Kirsten is a Colorado native and has been an animal lover her entire life. Her parents let her keep several animals as a child, but she learned how much she loved cats in her 20's after her roommate brought home an adorable, fluffy kitten. Once Kirsten moved on from her roommate and their cat, she decided she had to have one of her own and loves her kitty, Princess Zelda Von Fluffybutt, with all her heart.

Kirsten graduated with a degree in Graphic Design, but instead rediscovered her passion for animals and jumped at the opportunity to work with such an amazing team of fellow feline fanatics. In her spare time, she cuddles with Zelda and plays video and board games with her friends, or she may also pick up another fantasy novel.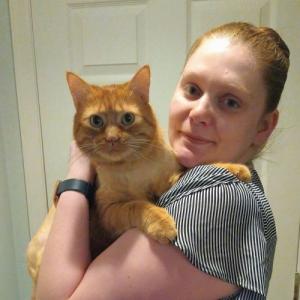 Casey

Veterinary Technician
Casey was born and raised here in Boulder County, Colorado. She grew up in a family that opened up their heart and home to any person or animal in need. From a young age, she learned to love and care for each animal they brought into their family. This has made her very passionate about animals every day since.
It was her dream job to work with animals. In 2021 she wanted to make her dream come true, so she did and she was fortunate enough to find a place here at Uniquely Cats and is excited to learn and grow with us.
Outside of work, Casey enjoys relaxing at home, cooking, and spending time with the three who are most important in her life: Her boyfriend, Mike, and their cats, Fia and Zoe.
Kate

Veterinary Technician
Since a very young age, Kate knew she wanted her life to focus on the health and well-being of all animals. She grew up riding horses and rescuing dogs, cats, rabbits, and fish. She graduated from Bel-Rea Institute of Animal Technology in 2008 and worked as a CVT in Boulder County for 6 years before deciding to take a short break from veterinary medicine. In 2014, Kate and her soon-to-be husband, Nick, moved to Breckenridge to become ski bums for the next 8 years. After buying a house in Boulder, Kate decided to return to vet medicine once she discovered the wonderful environment at Uniquely Cats.
When she's not working, Kate spends her time with her husband, her two Great Pyrenees, Ellie Mae and Teddy Bear, and her siamese mix Harlow. She enjoys true crime documentaries, snowboarding, cooking, collecting crystals, and is a mom to many plants.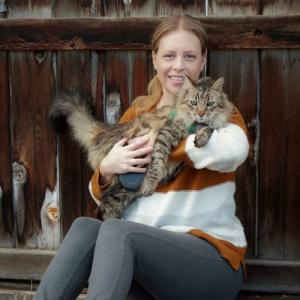 Alia

Client and Patient Care Specialist
Alia was born in Montana and raised in Northern California alongside a large variety of pets and the occasional injured or orphaned wild animal. After hopscotching through Corvallis, Oregon, and Missoula, Montana in pursuit of her education, Alia found herself headed to Boulder, Colorado in 2017 with her two tabbies and future husband. While her degrees are focused on human-wildlife conflict resolution and the environment, Alia has found her niche in caring for cats through years of work at feline rescues.
Jake and Alia celebrated their Colorado wedding in August of 2021. In their wedding vows, Jake thanked Alia for "turning him into a cat person" and the minister mentioned how Alia knew Jake "was a good egg" by the way he instantly bonded with her shyest cat. In their downtime they enjoy exploring the outdoors together, getting to know their new nephew, and settling down for a cuddle and Netflix binge with kitties Belle and Boomerang.
Elizabeth

Patient Care Specialist
Elizabeth was raised here in Boulder County, having spent much of her young adult life figuring out life's next big adventure. One thing that has always been true for Elizabeth though, is her love for animals, especially cats. While in foster care she volunteered with Medicine Horse Program and Flatirons Equestrian Center and spent many hours just hanging out with the horses as solace. She has helped many animals over the years in way of fostering, rescuing, and helping owners reunite with their lost pets.
She is currently in school to be certified as an assistant veterinary technician before moving into the veterinary technician program. Elizabeth has a sweet kitten name Kokomo, and two rescue dogs; a sweet older Kelpie named Tasha and a jubilant young German Shepherd named Arya.
In her spare time, she enjoys acrylic painting, getting her dogs out on adventures, and studying with Kokomo the kitty. Elizabeth is grateful to be welcomed by the Uniquely Cats team as she pursues her career in animal sciences.
Megan

Client Care Specialist
Megan was born and raised in Elburn, Illinois where she very quickly developed her love for animals. She has been a pet mom to a variety of different animals, including a hedgehog, guinea pigs, hamsters, goldfish, dogs, and of course, cats. She also fostered neonatal kittens from her local animal shelter for 7 years before making her move to Colorado in 2022!
Before coming to Colorado, she attended Illinois State University where she received her bachelor's degree in Animal Science. Currently, Megan shares her home with her Australian shepherd, Addie, her cat, Cruise, and her boyfriend, Blake. During her free time, Megan enjoys taking cat naps, cooking, fostering kittens, and adventuring around her new home state with Blake and Addie :).
Mika

Patient Care Specialist
Mika is a proud Ryūkyūan and was born and raised in a quiet valley in Maui, Hawai\\\'i. Growing up in a secluded area, Mika spent a lot of her time caring for her pets, including a pit bull mix named Hero, two cats named Piko and Hime, and many stray cats that wandered onto the property.

Before moving from Maryland, Mika was an intern for a veterinary hospital on the weekends and worked full-time during the week. She and her husband adopted two rescue kittens from Kuwait, Kirara and Umbreon, who are now a year old! The four embarked on a 1,662-mile journey over four days before settling down again.

Currently, Mika is in the online pre-veterinary medicine biology program at Arizona State University. Her other interests include reading, climbing, free diving, dancing, playing video games, and anything that involves connecting with Mother Nature.
Dusty

Client Care Specialist
Dusty was born in Denver, Colorado, and grew up traveling/living in Alaska and Montana surrounded by a variety of animals. The mountainous terrain/rural lifestyle and his animal companions inspired a fascination with ecology and wildlife. This also deeply encouraged him to pursue a career focused on animal care. He sought an education focused on environmental science and ecological restoration at MSU Denver while volunteering at animal shelters as a cat care specialist and kennel technician.
Dusty is currently a cat dad to two wonderful kitties, Sunflower and White Iverson. In his free time, he enjoys playing DND, baking/cooking for his friends and family, and mascotting.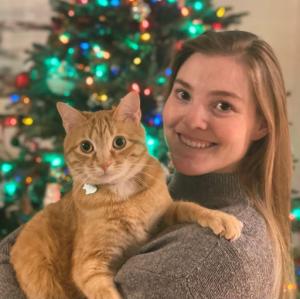 Gigi

Client Care Specialist
Gigi was born and raised in Boulder, Colorado. She grew up in a family that always had a cat and fostered kittens frequently, inspiring a love for animals that has only grown stronger.
After graduating from CSU with a degree in anthropology, Gigi moved back to Boulder and most recently worked as a video editor. During her free time, Gigi enjoys photography (especially cats), watching documentaries, and snuggling with her cat, Bean.
Join Team Feline!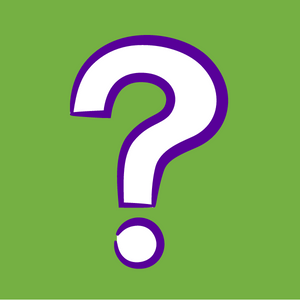 Could This Be You?
Uniquely Cats Veterinary Center is interviewing for Feline Focused Veterinarians, Client Care Specialists, Patient Care Specialists, and Veterinary Technicians to join our team!
Do you have a passion for cats, to personal excellence, love to learn, and want to be part of a team? Please click here to complete our online employment application — we want to hear from you!