About
Uniquely Cats Veterinary Center
Uniquely Cats Veterinary Center is the only feline-exclusive veterinary hospital located in Boulder, Colorado, dedicated to the optimal health and well-being of cats everywhere! We are a woman-owned, privately held, and locally-owned and operated veterinary hospital, providing full-service care to feline patients.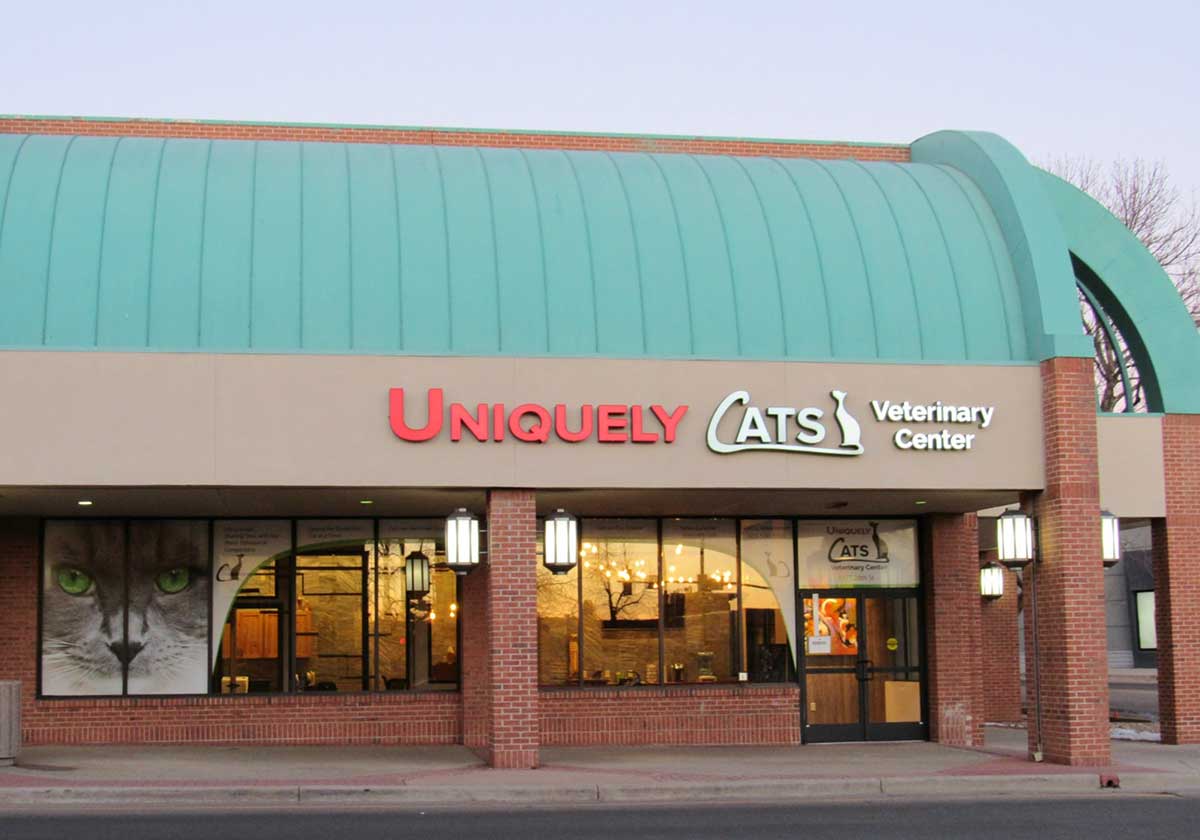 Our History
Uniquely Cats Veterinary Center was established in 2017. Our hospital design creates an environment that is peaceful for cats, and encourages them to relax and be comfortable. Uniquely Cats Veterinary Center was founded by Dr. Fern Slack and her team of cat-loving family members, with the aim of providing progressive and exceptional veterinary care to the cats of Boulder, Colorado and surrounding areas; and to support research into feline health, nutrition, and medicine.
Our Mission
It is our mission to advocate for all our patients and their people by providing excellent and compassionate veterinary care to every cat we see, and by respecting, advising, and cooperating with our clients as a member of their cat's healthcare team.
Video Introduction to Uniquely Cats® by Dr. Fern
We Are Committed To:
Caring deeply about the wellbeing of our patients
Listening compassionately to our clients
Doing our best to help meet the needs of the patient as well as the household in which the patient is nested
Being honest and straightforward with our clients
Providing exceptional medical care
Continuing to learn and to support research in the field of feline medicine
Supporting our community
Providing cat owners all over the world with the information they need to help their cats
Our Guiding Principles
Species-Appropriate Nutrition
Cats are "obligate carnivores:" they eat prey, not plants. The diet that best suits cats is a diet based on their evolution — a "prey-model" diet. Most commercially manufactured cat foods are the absolute opposite of that.
We do not sell food; nor do we recommend any "prescription diets." We will actively help you determine the best and healthiest food for your cat, whether commercially manufactured or made at home.
"Wholism"
Every part of a biological system is intertwined with every other part. We analyze and treat the whole cat, not just "an ear issue" or "vomiting." We understand that symptoms in one part of the body may be associated with or arise from a primary disease process somewhere else entirely. We do our best to identify and address underlying disorders, rather than simply treating symptoms as they arise. Treating symptoms without understanding the cause only hides the signs of progressive diseases, and allows problems to become much worse before they are diagnosed and treated.
Cats Are Not Small Dogs
Cat's bodies work very differently from dog or human bodies; many diseases have completely different symptoms in cats than in dogs or people, and many medical therapies that are appropriate for dogs or humans are often counterproductive or harmful in the cat. Our decades of experience are indispensable in understanding what cats need. This philosophy informs not just our medicine, but even our hospital design, which was created specifically to minimize feline stress, as well as our gentle, respectful, and individualized patient handling techniques.
Cats Are Great at Hiding Disease
Cats are absolutely superb at hiding the signs of disease, especially when problems develop slowly. This fact makes regular, periodic "wellness" evaluations crucial for early identification and treatment of disease in cats. A cat that "looks fine" often is not fine at all!
Diagnostic Analysis for Disease Identification and Management
Laboratory diagnostic screening is often our best tool for disease diagnosis, and for monitoring the efficacy of treatment. Because individual cats vary greatly, diagnostic test results are nearly always most informative when viewed as trending over time for a single individual, rather than as a "snapshot" of numbers evaluated only in comparison to the general population. We view all laboratory tests this way, assessing test results in comparison to previous ones, including all test results run at other hospitals before a patient has come to us.
Client Education: The Path to a Truly Informed Decision
We are dedicated to advocating for our patients by providing our clients with the information needed to make fully informed medical care decisions. We analyze and write detailed reports about test results and what we think they might mean. We believe you should see everything we see. We want you to have what you need to make reasonable and logical medical decisions for your cat based on real and thorough information.
Immunity Evaluations (Minimizing Vaccination While Assessing Protection)
The concept of Immunity Evaluation is the opposite of the old veterinary model of "give every vaccine every year." We perform an individual evaluation of your cat's PURRsonal infectious disease exposure risks, and balance those against the risks inherent in vaccinations, particularly if your cat is currently unwell. The protection of many vaccinations lasts far longer than the manufacturer's recommended revaccination interval. Tests are available to assess the current level of antibody protection against multiple diseases. Vaccine titering (testing for antibody protection against the diseases commonly vaccinated for) and Rabies Exemption Certificates (valid in Colorado and several other states) are available and frequently recommended.
Household-Based Treatment Goals
We establish our treatment goals by not only taking into account the health of our patient, but also considering the happiness of the household in which the patient is embedded. Our patients need to be healthy, and our clients need to be happy. It can be challenging to find a solution that meets both requirements; we commit to working hard with you to help you find that best solution.
Antibiotic Stewardship
AT UCVC, we believe it is crucial that the principles of Antibiotic Stewardship be adopted by all medical professionals, worldwide, to protect everyone on the planet. Inappropriate use of antibiotics (use when not needed, use against viruses, use of antibiotics that should be conserved for severe and otherwise unresponsive infections, use for too long at time at too low a dose, and more) threatens all of us. Antibiotics do not cure infections; the immune system does that. At best, antibiotics only help; and in many cases, no medicinal help is needed, just support and time. Antibiotic use always harms the patient's "good guy" resident microbiome, and always exerts pressure to generate antibiotic resistance, which is harmful not just to our patient, but the entire human world as well. We have committed to the principles of Antibiotic Stewardship as outlined by the CDC, the World Health Organization (WHO), and the Association for Professionals in Infection Control and Epidemiology, in order to help protect our patients, our clients, and our world.
Minimal Medications
Antibiotics are not the only unnecessary yet commonly prescribed medications. Many, if not most, common health problems are self-limiting, which is another way to say that the body mostly cures itself without any help from us. Part of being a good doctor is recognizing when medicinal intervention is and is not necessary. Part of being a good CAT doctor is understanding that the act of medicating a cat is often very stressful to the cat, which is harmful in itself — therefore, when considering whether to medicate, a cost / benefit analysis must be done to determine whether the potential benefit of the medication outweighs the stress induced by giving it. At UCVC, we will always approach the question of medications with this in mind. And we promise not to prescribe medications just to make it seem like we're "doing something" when in fact, only patience and tincture of time may be necessary.
First, Do No Harm
We do not perform elective declawing surgery.
Our Location:
Uniquely Cats Veterinary Center is easy to find, at the north end of the Marshall's Plaza, on 28th St, between REI and Hazel's.
Parking:
Ample parking is usually available in front of the building. A pullout is available for clients who would like to call and have a team member come get their cat carrier before they park and walk in. (A great option, especially on icy days or if your own mobility is challenged!) There are three parking spaces dedicated for the use of our clients behind the building, marked with Uniquely Cats signs. As a last resort, there is usually ample street parking available right behind the Clinic on 26th Street.
Our Team (The Cat People)
Our team of four Cat Veterinarians has over 56 combined years of feline medicine experience. We actively pursue feline-specific continuing education, and our doctors dive into research whenever necessary to meet a new challenge. Our practice evolves constantly as a result of new knowledge.
Each of our doctors is a member of the Veterinary Information Network, an online community of over 50,000 veterinarians, which allows access to the most up-to-date information in the veterinary field, and to easily consult with many of the top veterinary specialists in the world.
We Care For Our Community and Our World
We are dedicated to helping our town, our state, our country, and the world as well as our patients. We recycle everything we can. We purchase recycled and/or compostable products where possible, and choose delivery options that keep packaging to a minimum. We believe that one of the greatest gifts we can give the world is a bright smile and a positive attitude, and we always want to give those to you!